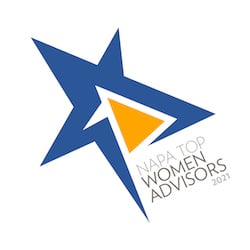 A few weeks ago, we shared that our consultant and director of vendor services, Hailey McLaughlin, had been nominated for the 2021 NAPA Top Women Advisors list. Today, we are very proud to announce that she has been included on the 2021 NAPA Top Women Advisors "Rising Star" list! This is the second consecutive year Hailey has been included on the list.

According to NAPA, nearly 600 nominees were asked to respond to a series of questions, both quantitative and qualitative, about their experience and practice, as well as their accomplishments, their contributions to the industry, the state of workplace retirement plans, and in what way(s) they "give back." Those questionnaires were reviewed on an anonymized basis by a panel of judges who selected the women honored today in three separate categories, for which Hailey was placed as a "Rising Star."
Congrats Hailey! We appreciate your dedication and hard work for Multnomah Group and the clients we serve.
For a full list of the Rising Stars, please click here.