In our first blog of this series focused on a committee's understanding of the importance of continuous growth for their retirement plan, we discussed ERISA's influence on fiduciaries and committees. In Part 2, we focused on understanding the historical models of retirement plan committees.
In Part 3, we are looking at committees now and in the future, and the primary drivers that influence the need to revisit committee structures and a changing governance program.
Four primary drivers of the past decade have led to the need to revisit the committee models, which are the foundation to a good governance process in a retirement plan. Retirement plans are only legally required to have one fiduciary, but a well-run plan has more than one fiduciary that utilizes a committee structure and a strong governance framework.

The primary drivers that influence the need to revisit committee structures and a changing governance program include: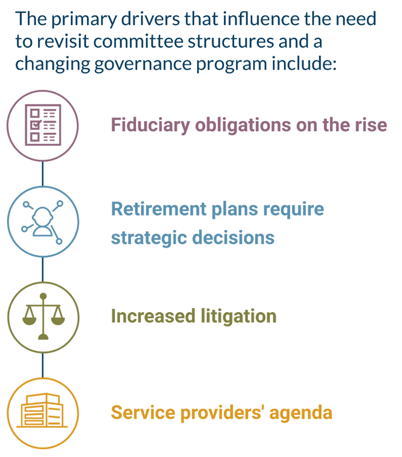 Fiduciary obligations on the rise:

The pace of regulation from the DOL is moving at record speeds, and with each new presidential administration comes a new interpretation of the rules. The once simple plan and associated responsibilities described above has become a list of 50+ fiduciary obligations ranging from handling uncashed checks to the evaluation of cybersecurity protocols. More than ever, this requires constant monitoring and interpretation of guidance related to regulation.

Retirement plans require strategic decisions:

Retirement plan participants require more than what was once considered a function in human resources to send out required notices. Instead, participants are demanding more of their employers. This requires coordination internally across the organization as well as externally among service providers to aid employees in being prepared for retirement. This demands coordination across a greater human capital strategy consisting of strategic decisions over several months and years and not just day-to-day tactical work.

Increased litigation:

During 2020, over 200 new ERISA class action cases were filed, and 2021 has been on track to keep pace. Although high costs and poor funds might be concerning, the courts in these cases are more focused on the process a committee uses to make its decisions than the end results. This requires that committees demonstrate a strong process.

Service providers' agendas:

Partially due to increased litigation, recordkeepers and other retirement plan service providers have faced fee compression over the past decade. Despite that, recordkeepers continue to invest in recordkeeping as a business because they believe there is an opportunity to generate additional revenue beyond the recordkeeping fees for servicing retirement plans. This means that recordkeepers, as well as other service providers, have their own agendas, which doesn't always include putting the plan sponsor's and participants' interests first. This requires committees to do extra legwork to understand the service providers' agendas as well as potential and actual conflicts.
While not an exhaustive list, these drivers have led to Multnomah Group's continuous growth model for retirement plan committees, which will create stronger governance programs for better retirement plans in 2022 and beyond.
---
In the coming weeks, we will focus on our Continuous Growth Model and next steps for plan sponsors and their committees.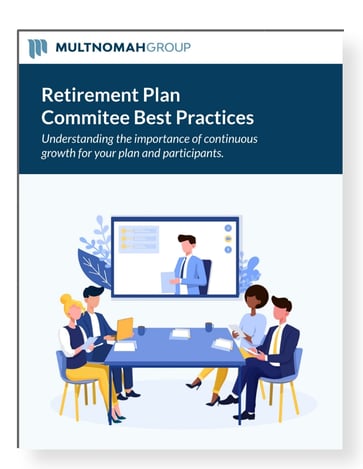 To read our complete guide on this topic, "Retirement Plan Best Practices: Understanding the Importance of Continuous Growth for your Plan and Participants," click here.
---
Multnomah Group is a registered investment adviser, registered with the Securities and Exchange Commission. Any information contained herein or on Multnomah Group's website is provided for educational purposes only and does not intend to make an offer or solicitation for the sale or purchase of any specific securities, investments, or investment strategies. Investments involve risk and, unless otherwise stated, are not guaranteed. Multnomah Group does not provide legal or tax advice.