Each year, our Technical Services Committee creates a Regulatory Update covering the legislative, regulatory, and litigation developments affecting retirement plans. This year, we continue the conversation about the SECURE Act and the new provisions released this year, as well EPCRS changes, DOL updates, and the notable retirement plan fee litigation cases from this year.
So far, we have covered our 2021 legislative and IRS updates. This year brought several updates from the Department of Labor as well. Here is what we cover about the DOL regulatory changes and updates.
---
Guidance for Lost & Missing Participants
In January, the DOL released guidance on the steps plan fiduciaries should take to find lost or non-responsive participants.

This guidance is part of a larger initiative by the Employee Benefits Security Administration (EBSA) to help plan fiduciaries focus on complete census information, appropriately communicate with participants and beneficiaries, and implement efficient policies.

The guidance did not include any bright line requirements; however, it did include a list of best practice steps for keeping track of participants and locating those who become lost or nonresponsive. As is common, proper documentation of the actions taken is a key piece of the guidance.

As part of the broader initiative, EBSA has started a letter campaign urging plan fiduciaries to locate and consolidate uncashed checks at legacy recordkeepers.
Cybersecurity Guidance
In April, the DOL released guidance on cybersecurity related to retirement plans for the first time. The guidance consisted of three forms:
Tips for Hiring Service Providers, for use by plan sponsors
Cybersecurity Program Best Practices, for use by all plan fiduciaries, including recordkeepers
Online Security Tips, for participants to reduce the risk of fraud
The tips for hiring service providers includes questions to ask of the plan's recordkeeper as well as recommendations on contracting. These tips have prompted many in the industry to release guides on how current cybersecurity programs address these concerns.
ESG & Proxy Voting Rule Updates
March brought updates to two final rules from the prior year. In late 2020, the Trump Administration finalized two separate rules:
Financial Factors in Selecting Plan Investments
Fiduciary Duties Regarding Proxy Voting and Shareholder Rights
The first rule focused on a plan sponsor's ability to use Environmental, Social, and Governance (ESG) impacts in making investment decisions. The rule did not specifically mention ESG but stated that only 'pecuniary factors' could be used in making decisions related to investment options offered in a retirement plan. The rule also suggested that investments using social criteria or other non-pecuniary factors may not be appropriate as Qualified Default Investment Alternative (QDIA) investments.

The second rule is related to the fiduciary duties for plan sponsor proxy voting. This rule required fiduciaries to put the economic interest of participants first and to ensure that any vote advances those economic interests. Also, like the ESG rule, it indicated that fiduciaries must not use non-pecuniary objectives or goals. If the vote will have no impact on participants' economic interest or cost, then the fiduciary should not vote the proxy.

One of President Biden's first executive orders directed the DOL to review the Financial Factors rule. On March 10, the DOL announced it would not enforce either rule. In August, the DOL sent its new proposed rules relating to ESG to the Office of Management and Budget for review.
Retirement Plan Fees
In July, the Government Accountability Office (GAO) released a study on retirement plan participants' understanding of the fees they pay within their retirement plan.

The report included five recommendations to the DOL:
Require the use of consistent terminology for asset-based investment fees.
For quarterly fee disclosures, provide the actual cost of any asset-based investment fees that are paid.
Provide participants information detailing the cumulative effects of fees on total savings over time.
Require fee disclosures to include fee benchmarks for in-plan investment options.
Include ticker information for all in-plan investments (when available).
The DOL is not required to act on any of the recommendations in the report but may choose to update disclosure and communication requirements.
---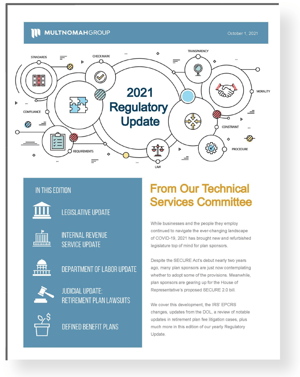 To read our full 2021 Regulatory Update, click the button below.
---
Multnomah Group is a registered investment adviser, registered with the Securities and Exchange Commission. Any information contained herein or on Multnomah Group's website is provided for educational purposes only and does not intend to make an offer or solicitation for the sale or purchase of any specific securities, investments, or investment strategies. Investments involve risk and, unless otherwise stated, are not guaranteed. Multnomah Group does not provide legal or tax advice.