We recently walked you through the first phase of conducting a vendor search. Phase 1 covered the preparation portion of conducting a full search. In Phase 2, we focus on the analysis portion of the search.
Phase 2: Analysis (Steps 3, 4 & 5)
STEP 3 - Solicit for proposals
Send RFP to prequalified vendors
Set clear expectations from the outset on deadlines, response submission format, and how vendors should communicate with you throughout the process
Determine the proposal evaluation criteria, consider a comparative scorecard
Analyze the response, keeping in mind the objectives of the search
Determine if finals presentations are necessary, if not, move to Step 5
Select finalists from the candidate pool that best address the plan's unique objectives and overall circumstances
STEP 4 - Choose vendor finalists and conduct final presentations and analysis
Notify finalists
Coordinate finalist presentations and/or site visits
Request sample materials
Check vendor references
Negotiate preliminary fees and service standards with all finalists
STEP 5 - Select Vendor
The Vendor Search Committee should use the finalist presentations as an opportunity to interact directly with the vendor's service team and ask specific questions about their proposal
Choose and notify selected vendor
Be on the lookout for our blog covering phase 3 in the coming weeks.


---
To read our full guide on How to Create a Vendor Search Timeline, click here.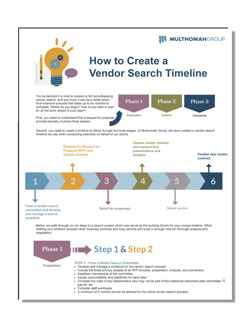 ---
Multnomah Group is a registered investment adviser, registered with the Securities and Exchange Commission. Any information contained herein or on Multnomah Group's website is provided for educational purposes only and does not intend to make an offer or solicitation for the sale or purchase of any specific securities, investments, or investment strategies. Investments involve risk and, unless otherwise stated, are not guaranteed. Multnomah Group does not provide legal or tax advice.