I'm guessing the United Kingdom's (UK) Prime Minister (PM) Theresa May will not be taking any vacation before March 29. That is the day that the UK is scheduled to leave the European Union (EU). The process started over 2 ½ years ago and continues to cause headaches – especially for PM May and the UK Parliament.
Rewind to June 23, 2016, when over 30 million Britons voted in a referendum to decide whether the UK should leave the EU. In a narrow decision of 52% to 48%, the UK voted to exit the EU causing the British pound sterling to fall over 16% versus the U.S. dollar that year. Nine months later, Article 50 (which outlines the procedures for an EU member state leaving the Union) was triggered, giving both sides two years to agree to the exit terms[1]. Fast forward to now - the EU and the UK have until March 29, at 11 pm UK time to agree on terms. PM May and the British Parliament have been unable to get a deal approved and time is running out.
There are multiple scenarios that could transpire over the near term – including a soft Brexit, hard Brexit, and no Brexit. While we do not have a Brexit crystal ball, the next few weeks will be filled with uncertainty, drama, and excitement. So stay tuned for its resolution.
Soft Brexit – potential scenarios include (a) renegotiating PM May's deal that would need to be approved by a majority of Parliament members and (b) postponing the process beyond March 29 by receiving an extension of Article 50 from the EU. (PM May would need to have all 28 EU members agree to be granted an extension).
Hard Brexit – this would be the case if the UK exits the EU without a deal in place on March 29, likely causing major disruption for businesses, individuals, markets, and the economy as the UK would sever all ties with the EU with no transition period and no guarantees on citizens' rights of residence. This option is the least likely given its potentially damaging consequences.
No Brexit – this is also a possibility since the UK could cancel Brexit by revoking Article 50 and remain in the EU.
PM May and her colleagues penned a 585-page withdrawal agreement setting the terms of the separation. Unfortunately, the deal was pulled on Dec. 11, 2018 at the last minute since she was headed for a large defeat. She then put it to vote on Jan. 15, 2019. Sadly for PM May, she suffered a staggering defeat losing by 230 votes.
So now what? PM May is working hard to renegotiate her withdrawal deal with the next vote scheduled for March 12 or before. The Labour Party has announced it will back another EU referendum if necessary. There is talk of PM May stepping down after the local elections in May 2019.
The political uncertainty surrounding Brexit is extremely high. Companies with large exposures to the domestic UK economy will face the greatest challenges versus multinational companies that are merely based in the UK. These UK-centric companies (primarily in the banking, real estate, utilities, and retail sectors) will have a more difficult road. Also, the UK automotive industry will be negatively impacted due to tariff issues in the unlikely scenario of a no Brexit deal. But either way, investment managers generally agree that much of the Brexit impact is already priced into the UK market. According to Morningstar[2], UK stocks appear to be undervalued, especially compared to other developed markets based on a combination of valuation metrics. Only time will tell how the final chapter of Brexit will impact the UK market, its economy, and its currency.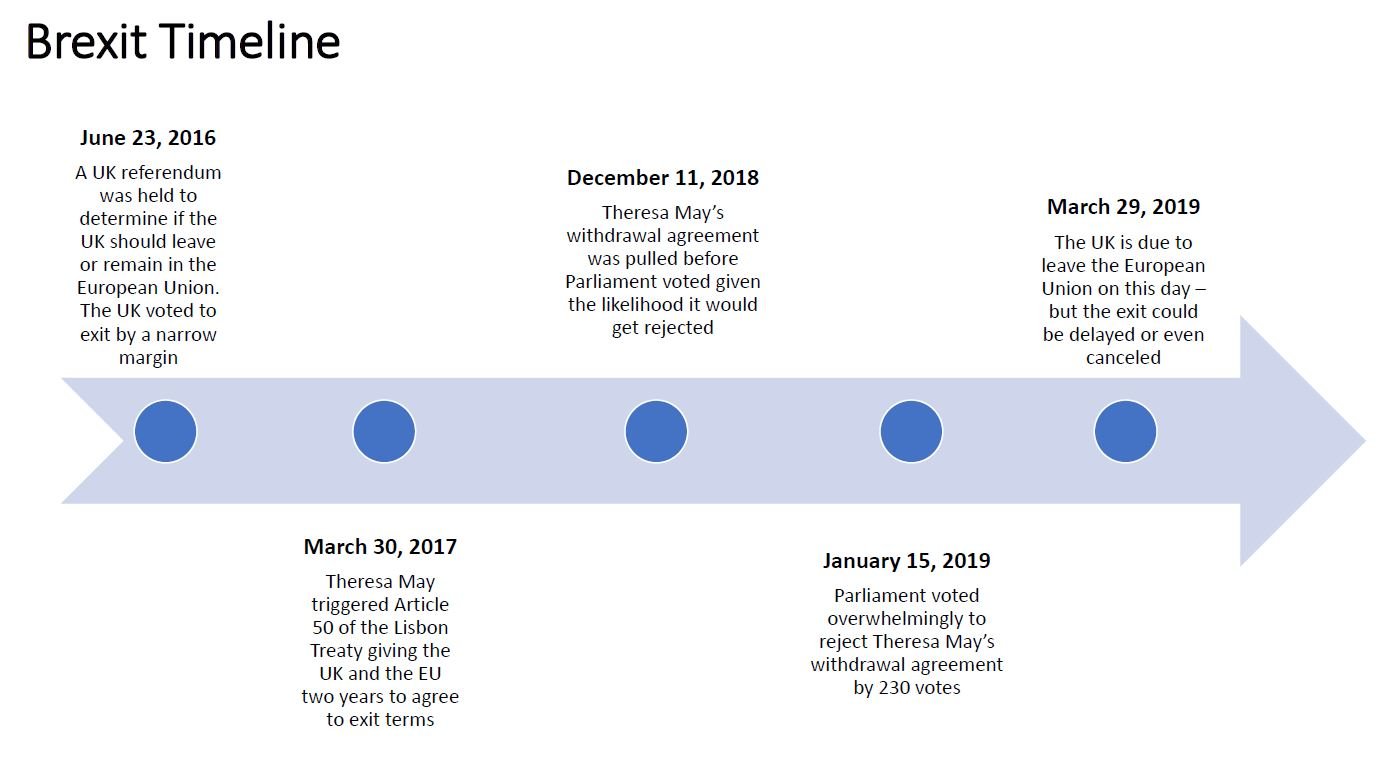 Notes:
[1] https://www.bbc.com/new/uk-politics-32810887
[2] https://www.morningstar.com/articles/904114/how-a-worstcase-brexit-could-impact-stocks.html
---
Multnomah Group is a registered investment adviser, registered with the Securities and Exchange Commission. Any information contained herein or on Multnomah Group's website is provided for educational purposes only and does not intend to make an offer or solicitation for the sale or purchase of any specific securities, investments, or investment strategies. Investments involve risk and, unless otherwise stated, are not guaranteed. Multnomah Group does not provide legal or tax advice. Any views expressed herein are those of the author(s) and not necessarily those of Multnomah Group or Multnomah Group's clients.