Investment menu construction is a classic responsibility that frequently requires plan sponsors to retain experienced and independent counsel to develop and monitor effective investment menus. Regrettably, developing an investment architecture that works well for your plan is more nuanced than the assembly of some strong investment products. Defined contribution returns are a byproduct of the investment allocation decisions of individual participants. Those same participants empowered to make investment decisions in the plan may lack the skill, will, or time to make investment decisions appropriately.
Investment menu design is a key fiduciary responsibility that each retirement plan committee will undertake. Committees and their advisors combine investment theory with behavioral finance to develop a set of investment options used by a diverse group of participants with varying levels of investment knowledge, interest, and time to dedicate toward developing their personal investment strategy.
Each committee should establish a fundamental set of beliefs relative to the construction of an investment menu.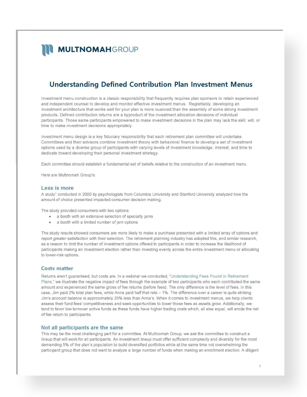 In our "Understanding Defined Contribution Plan Investment Menus" plan sponsor resource, we share our firm's beliefs relative to the construction of investment menus.
Read our resource guide for the full for explanation of why we believe:
Less is more

Cost matter

Not all participants are the same
To read our guide, click here.