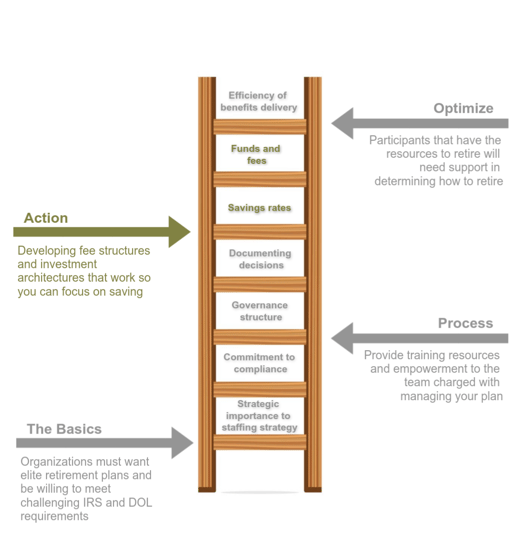 We continue our discussion of climbing the ladder to an elite retirement plan with Step 3. Plans with a strong committee empowered to act on behalf of their plan participants typically focus on two areas where progress can be made quickly; Funds & Fees and Savings Rates.
While the amount and duration of a participant's savings behavior has the highest correlation to their success in saving for retirement, the committee has immediate control over the next two most important factors; how much a participant pays to participate in the plan and the types of investment options participants can utilize.
Fees
For most defined contribution plans, the employer agrees to make contributions on behalf of their employees. Still, frequently the costs associated with maintaining the plan (recordkeeping, investment product, audit, etc.) are fees allocated back to participants. The practice of having plans pay fees is common and reasonable. However, when a plan elects to have expenses paid by the plan (participants), all of the costs paid by the plan are subject to fiduciary "reasonableness" standards. Elite committees understand that plan expenses eat away at participant returns over time.
Committees should periodically benchmark the fees paid by the plan. Committees are not required to purchase services from the lowest cost provider under the Employee Retirement Income Security Act (ERISA) but must be able to demonstrate, through a deliberative process, that the fees are reasonable. Upon review, if the fees are out of range, committees may choose to negotiate with the service provider for higher levels of service and/or lower fees. Ultimately, the best benchmarking is to periodically solicit proposals from qualified vendors.
Well-run vendor search and benchmarking processes require assistance from independent specialists. The last decade has seen significant compression in the pricing of defined contribution plan services. However, this marketplace is dominated by national financial services firms that have used the retirement plan relationship as an avenue to distribute other high margin profits to participants that may generate fiduciary risks.
Examples include:



Proprietary investments

among the investment array




Managed account sales to participants

Soliciting IRA rollovers from terminated participants

Cross-selling other financial products and services

Encouraging proprietary annuitization among retirees
Costs must always be compared against services and should also be looked at through the broader lens of revenues for the provider.
---
Read our full Guide to Climbing the Ladder to an Elite Retirement Plan for our in-depth look at running the best retirement plan possible.
You can also look out for the remaining pieces of Step 3 and Step 4 covered on our blog in the coming weeks.
You can read Step 1 and Step 2 on our blog now.
---
Multnomah Group is a registered investment adviser, registered with the Securities and Exchange Commission. Any information contained herein or on Multnomah Group's website is provided for educational purposes only and does not intend to make an offer or solicitation for the sale or purchase of any specific securities, investments, or investment strategies. Investments involve risk and, unless otherwise stated, are not guaranteed. Multnomah Group does not provide legal or tax advice.