For any organization to have an elite retirement plan, the company must be invested in the work required to climb the ladder. Different organizations with varying staffing models may elect to take alternative approaches to developing and maintaining their company's retirement plan. The path to an excellent retirement plan is not the same from company to company. Using the same map, companies can approach their retirement plan strategy from very different directions.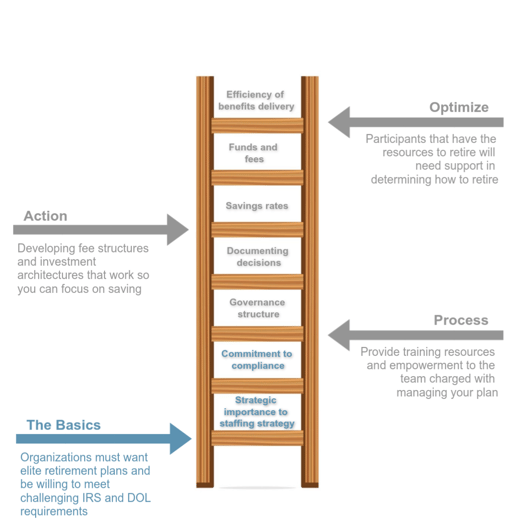 In most industries, the continuity of a learning and growing workforce is essential to the economic health and having employees whose long-term financial needs are being addressed contributes to retention, employee productivity, and a commitment to their employer. However, not every company has the same needs.
Strategic Importance to Staffing Strategy
Employees, as well as potential employees, value compensation, benefits, and opportunity differently. As a result, while most organizations that compete for human talent must have a retirement plan, it's generally only as employees grow closer to retirement age that the quality of a retirement plan becomes a decision point in where an employee chooses to work.
However, when you have the talent, want to retain it, and have a staffing model that relies on "on-time" retirement, the quality and effectiveness of the retirement plan becomes much more important. Typically, a strong measure of how committed an employer is to the success of their retirement plan is the level of employer contribution they dedicate to it. Labor costs differ across industries, so understandably companies have varying levels of resources they can commit to retirement plan funding. However, elite plan sponsors generally commit median level funding or more to employees based on their industry trends. The contributions may come through general contributions, match, or profit sharing, but are essential to a retirement plan's effectiveness.
We know participants need to save in a defined contribution plan for a successful retirement, but not all employees have that same knowledge. Employers who are able and willing to share in the savings burden signal to employees that retirement savings is important. The larger the financial commitment the employer makes, the more inclined they are to maximize the value of that contribution through investing the additional time and staffing resources that are required for the plan to be elite, not just generous.
In short, like so many things in life, having an elite retirement plan is an achievable goal for organizations of all sizes and in all industries. However, it proves to be successful only for organizations that are willing to invest what's required to climb to the top.
Commitment to Compliance
Like most things governed by the tax and revenue code, the operation of retirement plans seems to become more challenging with each successive year. Every legislative effort to simplify plans (usually in hopes of encouraging more small sponsors to adopt them) inevitably adds more confusion. Qualified retirement plans allow employers to define to whom, when, and how much in benefits will be provided. In addition, the employer may identify how long you need to stay to receive the benefits. Employers even get to adjudicate claims made by the participants in the plan. In these plans, both employees and employers get tremendously advantageous tax treatment on contributions, effectively government subsidies of the savings process. In exchange for these valuable benefits, the Internal Revenue Service (IRS) and Department of Labor (DOL) require plans to adhere both to the rules that plan sponsors have created and articulated in their plan document, but also the broader compliance rules established and monitored by the DOL and IRS.
As plans evolve and organizations grow, their plans tend to become more complex as organizations evaluate how to effectively manage the valuable retirement benefit and allocate contributions to the intended population. Over time, complexity becomes a substantial hurdle as organizations tend to pass plan operation rules down from generation to generation more like oral histories than referring to the source documents that dictate their obligations. Plans that are constantly wrestling regulators and correcting errors never have the time to become successful.
Elite plans avoid complexity whenever complexity can be avoided. A complicated plan design breeds two potential challenges.
Complicated plans are more difficult to outsource




Any features that are atypical to the industry are far more likely to be incorrectly administered by your provider. While the error may belong to the provider, it is likely that the liability and investment of time to correct will be your own.

Numerous people outside the human resources and benefits team carry some role in ensuring the plan runs correctly.




Hiring managers articulate benefits to potential employees, payroll processors

make a determination

on how benefits should be calculated, and employee managers make promises that are not supported by the structure of the plan.
Technically, a plan sponsor could fail nearly any element of their plan document in operation and practice. There are a very narrow number of failures that incorporate the overwhelming majority of plan operations issues.
Hiring and retaining a strong benefits manager can help reduce these risks to the employer.
For a full picture of plan failures according to the IRS and the DOL, read our blog focused on the topic.
Read our full Guide to Climbing the Ladder to an Elite Retirement Plan for our in-depth look at running the best retirement plan possible. You can also look out for Steps 2-4 covered on our blog in the coming weeks.
---
Multnomah Group is a registered investment adviser, registered with the Securities and Exchange Commission. Any information contained herein or on Multnomah Group's website is provided for educational purposes only and does not intend to make an offer or solicitation for the sale or purchase of any specific securities, investments, or investment strategies. Investments involve risk and, unless otherwise stated, are not guaranteed. Multnomah Group does not provide legal or tax advice.