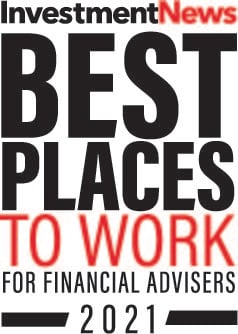 We are excited to share that we have been recognized as a 2021 Best Places to Work for Financial Advisers as announced by InvestmentNews. This is the third consecutive year we have been included on this list.
Multnomah Group was chosen as one of this year's top-75 best places to work based on employer and employee surveys delving into everything from company culture, benefits, career paths, and more.
"We are very proud to be included on this list for the third year. The pandemic has exposed what we've known for some time - we are the people we attract and retain. There is nothing more important than creating a culture of inclusivity, teamwork, and growth to the success of our organization and the clients we are fortunate enough to serve," said Erik Daley, managing principal.
InvestmentNews partnered with Best Companies Group, an independent research firm specializing in identifying great places to work, to compile the survey and recognition program.
To learn more about the InvestmentNews 2021 75 Best Places to Work for Financial Advisers, please go to Bestplacesforadvisers.com.
---
Multnomah Group is a registered investment adviser, registered with the Securities and Exchange Commission. Any information contained herein or on Multnomah Group's website is provided for educational purposes only and does not intend to make an offer or solicitation for the sale or purchase of any specific securities, investments, or investment strategies. Investments involve risk and, unless otherwise stated, are not guaranteed. Multnomah Group does not provide legal or tax advice.